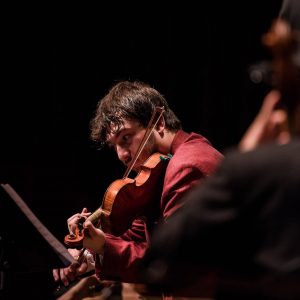 Increasingly recognized as a versatile and passionate performer, Brazilian-born violinist Moises Bonella Cunha has appeared as a soloist and chamber musician throughout United States, Brazil, Italy and Russia. As winner of several competitions, Moises has been featured as a soloist with major Brazilian symphonic and chamber orchestras, including Bahia Symphony Orchestra, Porto Alegre Symphony Orchestra, and SESI FUNDARTE Chamber Orchestra. He has also appeared as a soloist with ARCO Chamber Orchestra, University of Georgia Symphony Orchestra, Tidewater Intergenerational Orchestra, Camerata Florianópolis, Santa Maria Symphony Orchestra, Theatro Sao Pedro Chamber Orchestra, Caxias do Sul Symphony Orchestra, and Unicamp Symphony Orchestra, receiving excellent reviews. Solo appearances with orchestras include concerti by Bach, Bartók, Brahms, Glazunov, Mozart, Mendelssohn, Saint-Saëns, Sibelius, and Vivaldi. Moises has also performed on Brazilian television such as TV Educativa and TV Senado as a soloist of the SESI Catedrais Project.
At the invitation of renowned pianist Arnaldo Cohen, Moises Cunha performed a solo recital for a full audience at the prestigious Sala São Paulo. He has also collaborated with artists such as Dennis Parker, Kevork Mardirossian, Fernando Hasaj, Ney Fialkow, Onorio Zaralli, and Anatoly Sheludyakov. Moises also performed alongside Grammy-Award winner Craig Hella Johnson, being featured as the solo violinist in his latest work "Considering Matthew Shepard".
As an orchestra player, Moises has worked with conductors such as Leonard Slatkin, Xian Zhang, David Effron, Cliff Colnot, and Carlos Miguel Prieto. He has served as the Concertmaster of the Indiana University Symphony Orchestra during the Indiana University Summer Music Festival, and also performed with the Indiana University Early Music and New Music Ensembles. From 2014-2017, Moises was a member of the ARCO Chamber Orchestra. Since 2018, Moises has served as Concertmaster and Artist-in-Residence of the Northern Neck Orchestra. He also performs regularly with the Louisiana Philharmonic Orchestra.
Moises is passionate about educational outreach, and has given numerous music classes in public schools in the United States. He has also given masterclasses at FUNDARTE and Pelotas Federal University, and frequently presents masterclasses and coaches chamber music and orchestra sectionals to the Orquestra Jovem Recanto Maestro in Brazil.
Moises Cunha studied chamber music with Ik-Hwan Bae, Federico Agostini, Alan de Veritch, Jorja Fleezanis, James Campbell, Emile Naoumoff, and members of the Pacifica Quartet. He also performed in masterclass for Erich Rosenblith, Nam Yun Kim, Alexander Sitkovetsky, Arnaud Sussmann, Patinka Kopec, Christoph Schickedanz, among others.
Moises Cunha holds a B.M and a M.M from Indiana University Jacobs School of Music where he was a recipient of the Fulbright Scholarship, Conrado Wessel Foundation Scholarship, The Scott C. and Kathrin Schutz Latin American Scholarship, and the Artistic Excellence Award. Moises Bonella Cunha completed the D.M.A. at University of Georgia in the spring of 2018. His primary mentors include Mauricio Fuks, Kevork Mardirossian, and Levon Ambartsumian.