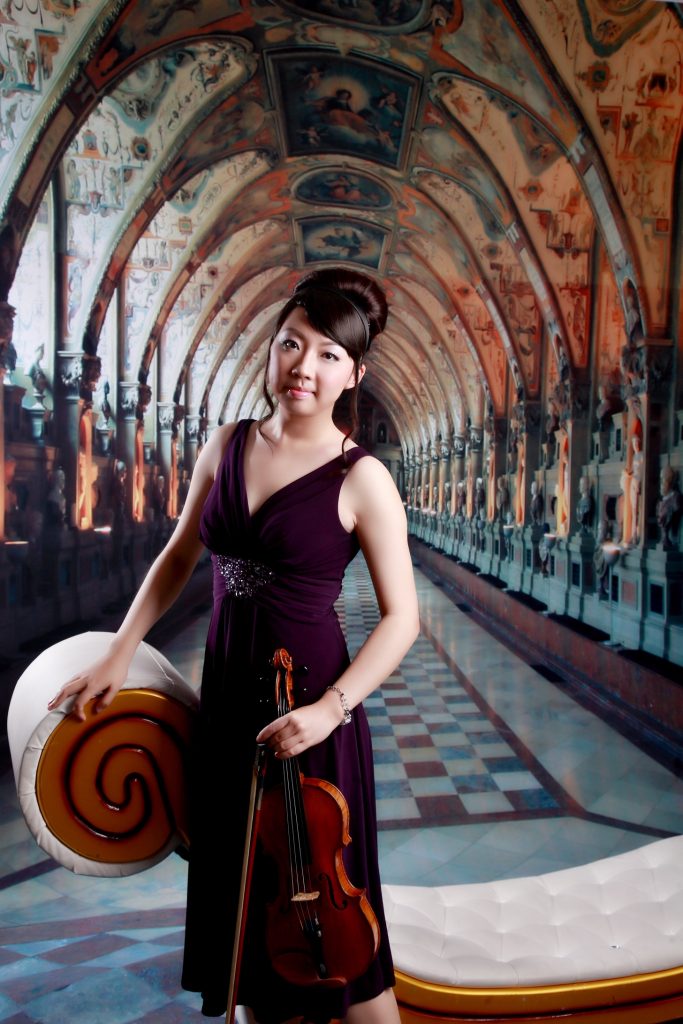 Violin YAA Instructor
Qi Cao is currently a tenured member of the violin section of the Louisiana Philharmonic Orchestra. She has a doctor of musical arts degree from the University of Wisconsin-Madison (minor in music theory), a master of music degree from Yale University, and a bachelor of music degree from National University of Singapore collaborating with Johns Hopkins University.
Lauded by The Washington Post as the "Real Star" of the Kennedy Center/National Symphony Orchestra (NSO) National Trustee's Summer Music Institute Orchestra's final concert in July 2007, Ms. Cao has performed widely as a soloist, chamber musician, and orchestra musician throughout China, Singapore, Japan, Australia, New Zealand, Canada, and the United States, appearing at prestigious concert halls such as Carnegie Hall and the Kennedy Center Concert Hall and Millennium Stage. Ms. Cao has been featured on numerous medias, including the Wisconsin State Journal, the Capital Times, the Times-Picayune, the Well-Tempered Ear, the Score Newsletter, the Singapore Embassy Newsletter, the Straits Times (Singapore), and the Instep Magazine (Singapore).
Ms. Cao won first prizes in numerous competitions including the Emerging Artist Competition in Monroe, the National Piano and Violin Competition in Singapore, the Schubert Club Bruce P. Carlson Competition in Minneapolis, the Wisconsin American String Teachers Association (ASTA) Solo Competition, the Connecticut ASTA Solo Competition, the University of Wisconsin-Madison Concerto Competition, and the Kennedy Center/NSO Summer Institute Concerto Competition. Ms. Cao received the International String Player Award at the Gisborne International Music Competition in New Zealand.
Ms. Cao spends her summer at Boulder performing with the Colorado Music Festival Orchestra. She previously served as the assistant principal violinist at the Dubuque Symphony Orchestra and as a section violinist at the Madison Symphony Orchestra, and Madison Opera. She also performed with the Symphony Silicon Valley, the La Crosse Symphony Orchestra, the Oshkosh Symphony Orchestra, the Singapore Symphony Orchestra, and the Singapore Festival Orchestra.
Ms. Cao has participated in the Pacific Music Festival and Academy (Japan), Orford Music Academy (QC, Canada), Kennedy Center/NSO Summer Institute (as concertmaster), Australia Summer Orchestra Institute (as concertmaster), the Round Top International Summer Music Festival (as principal second), Norfolk Chamber Choir and Choral Conducting Workshop (as concertmaster), Singapore Arts Festival, and Shanghai International Spring Music Festival.
Ms. Cao is currently a violin and recorder teacher for the Link-Up outreach program at the Louisiana Philharmonic Orchestra and a string faculty for the Greater New Orleans Youth Orchestra Summer Music Festival. She has taught violin lessons at the KIPP New Orleans Leadership Academy, the Community Music Lesson Program at the University of Wisconsin- Madison, the Foote School in New Haven, and the Motivate Music School in Singapore. Ms. Cao has conducted multiple presentations and lecture recitals in New York, Madison, New Orleans, and Shanghai (China).